Moving a Domain Registered Through Network Solutions for HOSTING at MartNet
How to move your domain name to Martnet for HOSTING
---
Please follow the below instructions if you are transferring your domain name to MartNet:
Note: This infomation is subject to change at anytime. Martnet is not responsible for any changes made by Network Solutions/ Verisign
1 -) Choose a hosting package with us

2 -) Once signed up, got to http://www.networksolutions.com/en_US/makechanges/

3 -) Fill out the field under "Enter the domain name to manage" with the domain name you would like to move to MartNet, then click the "Go" button: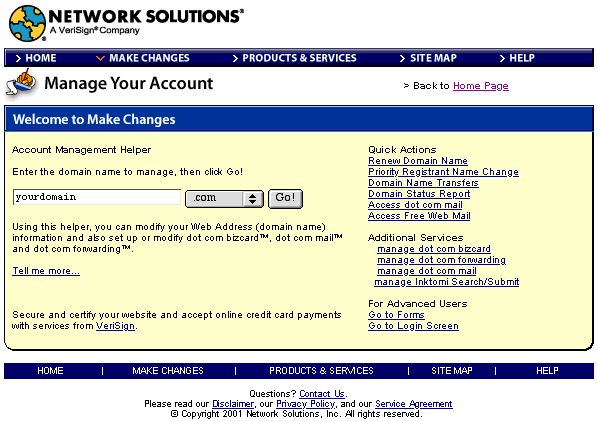 4 -) On this page select "transfer my Domain Name to another ISP" and then click the "Go" button to proceed to the next page.

5 -) On the next page it will ask you for your email address. Use the email address that is registered for the owner of domain. If you do not remember the email address the domain was registered with, you can look it up here. Then click the "Go" button to proceed to the next page.

6 -) Scroll down the page and change the "Technical Contact" NIC handle to MH394-ORG.

7 -) Then change the Name Server Information:
8 -) Click on "Submit this form for processing" and wait until you see a confirmation page that the form has been received by Internic.

9 -) Upon submitting the transfer application you will receive an e-mail from Internic with the Subject Line "MODIFY DOMAIN yourdomainname " . Reply to that e-mail without making any changes in the body of the e-mail.

10 -) Step 8 will initiate the transfer and Internic will send two acknowledgment e-mails to your domains contacts, namely to the administrative and technical contacts. You must have access to administrative contact e-mail for your domain so that you can acknowledge the transfer by properly replying to this e-mail.

11 -) When the contact (domain owner) acknowledges the transfer, Internic will send you a confirmation that your domain's transfer is complete. Please forward this confirmation to hostmaster@martnet.com.
What to do if you no longer have access to the email address listed on the domain

If you no longer have access to that e-mail address, you can submit verification, via fax, that you are authorized to make changes in the record. The fax must be on letterhead from the organization listed as the Registrant in the WHOIS database (this is the organization that is listed at the top of the WHOIS record), and must be signed by an individual with apparent authority to legally bind the registrant. Please use the form: at
http://www.networksolutions.com/en_US/makechanges/fax/domform.html
to create an authorization letter.

Alternatively, you can contact Internic at 1-800-779-1710 to ask for assistance in updating your domain's contact information.
Basic information
Technical Contact NIC Handle: MH394-ORG

Primary Name Server
Primary Server Hostname.........: NS.MARTNET.COM
Primary Server Netaddress.......: 216.214.1.131

Secondary Name Server
Secondary Server Hostname.......: NS2.MARTNET.COM
Secondary Server Netaddress.....: 67.91.144.5

Secondary Name Server
Secondary Server Hostname.......: NS4.MARTNET.COM
Secondary Server Netaddress.....: 67.91.144.9

Secondary Name Server
Secondary Server Hostname.......: NS1.MARTNET.COM
Secondary Server Netaddress.....: 216.214.1.132

You can run a WHOIS search to see the information on your domain at
http://www.martnet.com/services/whois.php

This Web Site is proudly built upon an Open Source foundation:




---
Home | Services | Support | Members | Software | Contact