Connecting with Windows 98
A step-by-step walkthrough.
---
This page covers the following topics:
General Configuration Information
Setting Up Windows 98 to Connect to MartNet
Setting up Dial-Up Networking
Connecting to MartNet
Accessing the World Wide Web and checking email
Setting Up Windows 98 to Connect to MartNet
This document describes the procedure for connecting to MartNet with a Windows 98 PC equipped with a modem. Within this document, anytime you see a list like this: (Start->Programs->...), follow the listed sequence of menus, menu items, or other controls.

NOTE: This document assumes that you have a basic working knowledge of Windows 98, including using the mouse, how to open icons, using menus, etc.

1. Setting up Dial-Up Networking

Open up the Dial-Up Networking folder inside My Computer. (My Computer->Dial-Up Networking).
Double-click the "Make New Connection" icon.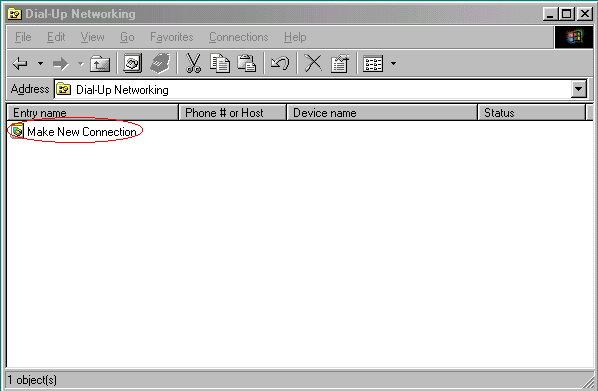 Provide a name for your connection. Replace "My Connection" with "MartNet". Then click Next.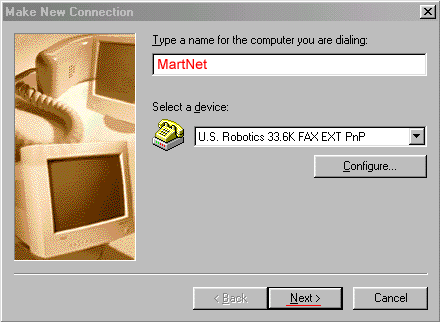 It now asks you for you a phone number . Enter the MartNet Dial-up phone number of your choice.
(For a complete list of phone numbers, check our Dial-up numbers database).Click Next...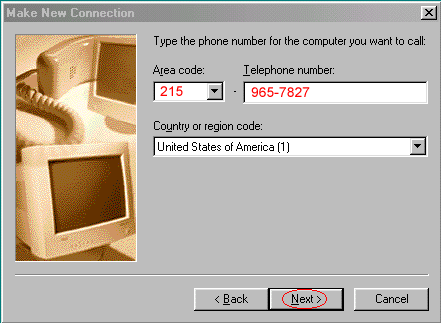 ...and then click Finish.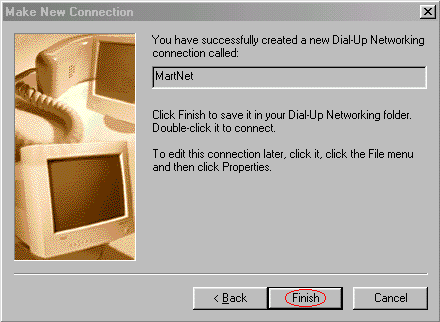 Now ,there will be an icon in your dial up networking folder called "MartNet".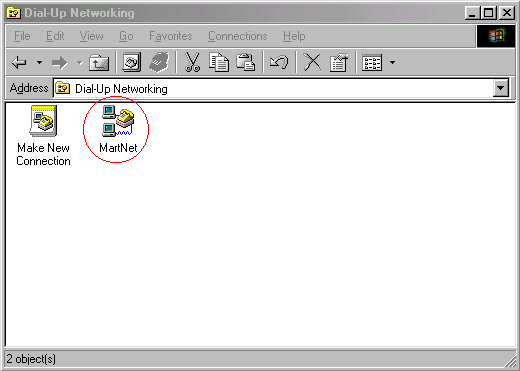 For easier dialing later, you may want to create a shortcut on your desktop by right clicking on the "MartNet" icon and selecting "Create Shortcut". You will then get a dialogue box that says "Windows cannot create a shortcut here. Do you want the shortcut to be placed on the desktop instead?"

Just click "yes" and it will create a "Shortcut to the MartNet" dial up connection on your desktop. Anytime you want to connect after your initial set up, you can just click on this icon and you'll be on your way.

---
2. Connecting to MartNet

You are now ready to connect to your MartNet account. Open the MartNet icon. (My Computer->->Dial-Up Networking-->MartNet or the "Shortcut to MartNet" icon on your desktop) Enter your User Name and password. Your User Name is your complete email address (ie username@martnet.com). If you would like to save your password information so you do not have to enter it every time you connect, check off the "Save Password" box. After you have entered this information, Click connect and the modem will dial to MartNet. When you get the "Connected at" message, you are connected to MartNet!

NOTICE: If you are calling from an area (like Philadelphia) that requires 10 digit dialing make sure the phone number listed in your "Connect to" window has the area code included. If it does not, click on the "Dial Properties" button, next click on the button that says "Area Code Rules", and then check off the box that says "Always Dial the Area Code"


3. Getting Around.

Now that you are connected to Martnet, open up your favorite web browser (Internet Explorer, Netscape Communicator, etc) to surf the World Wide Web. To check your email, you can use an email program like Outlook Express (set up instructions) or our MartNet Webmail interface.




This Web Site is proudly built upon an Open Source foundation:




---
Home | Services | Support | Members | Software | Contact