Connecting With Linux
Configuring netcnfg for XWindows
---
Connecting with Red Hat Linux
-netcnfg for XWindows
---
[note, this will only work with XWindows]
While logged in as root, start X by typing "startx" at the command prompt (without the quotes of course). If you can't get X to work, no problem, use linuxconf. This functions the same in X and in text mode. (Screenshots in X are provided). This should bring up the plain Win95 look-alike GUI with the control panel, shown here:

First you want to click on the modem icon, (this runs /usr/bin/modemtool) and select which com port your modem is on. (If you have WinModem, give up now, reboot, go back into Windows. Sorry, it won't work)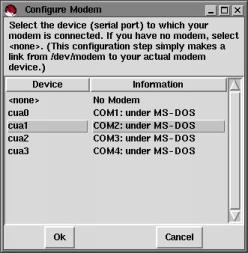 ---

Then click on the network button in the control panel, (this runs /usr/bin/netcfg) which brings up this screen, which you want to fill out as shown: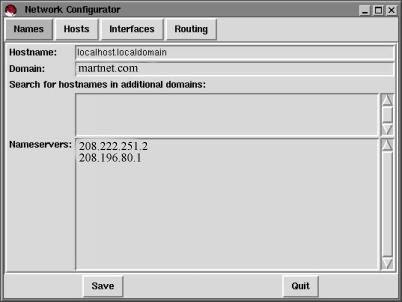 ---
Then click on Interfaces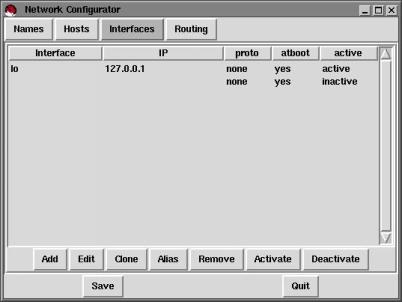 ---
Click Add, and select PPP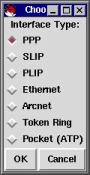 Once you hit ok, this screen pops up, fill in your local phone number, (if you are in the 215/610 area code, include the area code). Click on the Use PAP authentication box, and fill in your username and password. Then click on customize, and put in your modem settings, and check off Allow any user to (de)activate ppp, so you can use it without having to log in as root.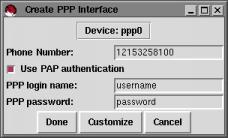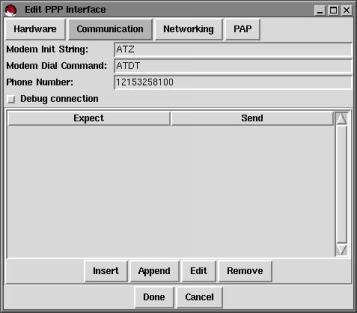 Then hit done, and yes to save configuration

Now on the Interfaces screen, click on ppp0 and hit Activate, and it should work, but I can't make any guarantees whatsoever. Sorry. But it works perfectly for me. So I wish you luck.


This Web Site is proudly built upon an Open Source foundation:




---
Home | Services | Support | Members | Software | Contact